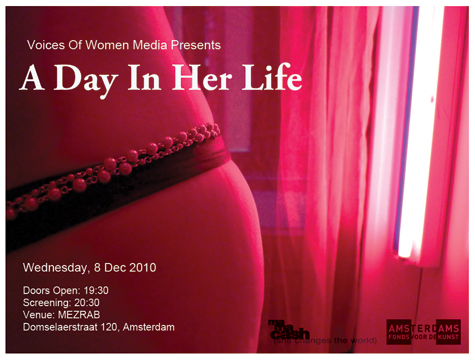 Upcoming screenings of A Day In Her Life
Wednesday, 8 Dec. 2010
Voices of Women Media evening at Cultureel Centrum Mezrab / Art Cage
Domselaerstraat 120
Doors open: 19:30h
Screening starts: 20:30h SHARP!
This screening will be open to the general public.
Thursday, 9 Dec. 2010
Mama Cash workshop called "Donor Dialogue: Donor collaboration to advance the human rights of sex workers."
This event is closed to the general public and will have participants who are involved in sex work all around the world.
Event Location:
Cultureel Centrum Mezrab / Art Cage Domselaerstraat 120, Amsterdam